I recently picked up the Lil' Ripper Stripper™ from Ideal Industries, at Home Depot for about $5.00.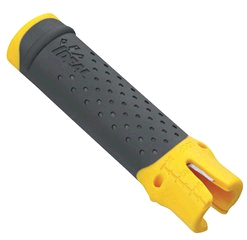 Not that I needed a new tool, especially another wire stripper; but for $5.00, how could I resist?
Really, I was just interested to see how useful it actually was.   I'm almost always skeptical of multi-tools, since they aim to replace tools designed specifically for a single task.  The Lil' Ripper Stripper is no exception, so it really has to preform well to replace tools in my tool pouch.
Features:
Rips Romex® wire outer jacket cleanly and quickly.
Clips outer sheathing to remove excess Romex® wire jacket.
Strips inner conduit wires.
Looping holes loop wire for screw-on connections.
Twist-Assist™ tightens most popular sizes of winged twist-on wire connectors.
Injection molded elastomer grip provides a comfortable, slip resistant grip.
Strip length measuring scale allows for quick and easy measurements.
Conveniently fits in your pocket.
Since Ideal gave me a good feature list, lets tackle each one individually.
Ripping Romex® (NM wire)
The Lil' Ripper Stripper, makes ripping non-metallic cable sheath simple and fast. If you look in one end of the tool, you'll notice a small metal hook.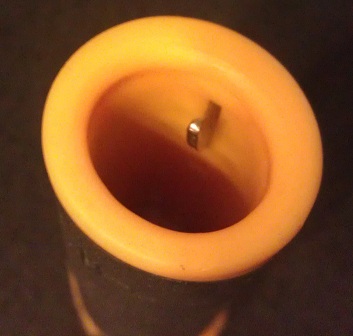 To rip the cable, simply place the hook under the cable sheathing, then slide the tool along the cable.  The Lil' Ripper Stripper definitely earns this part of its name, this thing rips cable like a champ.  It slices through the sheath clean, fast, and without any concern of nicking the conductors.  Because of its shape and size, you can even easily rip the sheath from cables already installed in boxes.
Removing excess sheathing
To remove the excess sheathing, you slide the sheathing into the large notch, at the end of the tool, and pull.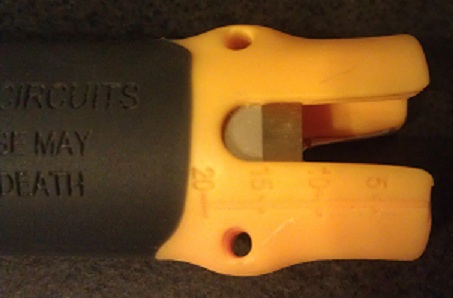 This feature seemed like an afterthought, or maybe the cutting blade was relocated to accommodate another feature.  Either way, it's not great at this.  The cutting blade is set back a bit too far, which makes getting the excess sheath deep enough to cut it a challenge.   Even the guy in the demo video had trouble with this feature, so it doesn't seem to be user error on my part.
Stripping conductors
To strip the conductors, you simply slide the wire into the V notch at the end of the tool, give it a couple twists, then pull the insulation off.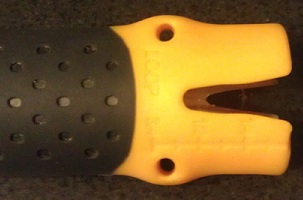 It works relatively well, though it can easily nick the conductors if the wire is inserted too forcefully.   You'll also notice a measuring scale on the face of the tool, which helps you determine how much insulation to remove.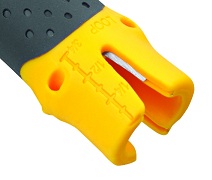 Terminal loops
To create terminal loops in the wire, you insert the wire into one of two holes on the side of the tool, then give it a quarter turn.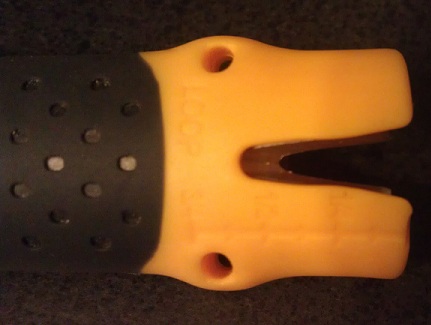 This is a nice feature, and works very well.
Twist-Assist™
To twist on wire caps, insert the cap into the end of the tool, insert the wires into the cap, then twist.  This is a handy feature if you're working in gloves, and find it difficult to twist on little wire caps because of it.  The length and size of the tool give you a little extra grip, allowing you to twist on the wire caps without a problem.  It's only designed to work with winged wire caps, so if you're working with caps without wings, you're out of luck.
Comfortable, slip resistant grip.
The tool is comfortable in your hand, and it does provide a slip resistant coating. However, the best part of the grip is the constant reminder that you shouldn't be working on live circuits.
Conveniently fits in your pocket
Yes, it does fit in your pocket.  But guess what Ideal… I want it to hang from my tool belt! Is it too much to ask for a key chain loop, so I can hang it from a carabiner on my tool pouch? I guess then they'd have to charge $5.50 for the tool, and maybe that's too steep for the average DIYer.
All in all, this is a fairly nice tool.  It would be a nice addition to any DIYers tool belt, er… pocket. It rips cable sheath really well, strips wires, makes terminal loops, and helps twist on wire caps.  It's a useful, sturdy tool, but I'm not sure I'm ready to give up my wire strippers just yet.  For a DIYer looking for a useful inexpensive tool, this is a good solid choice.  The Idea Lil' Ripper Stripper gets 3.5 Captain Constructions, out of 5.