For a long time I've avoided purchasing an Oscillating Multi-tool.  I thought they were gimmicky, flimsy, and not as useful as advertised.  I used a cheap no-name brand multi-tool in the past, and was not impressed by its performance.  Turns out the "Multi-tool" market has grown rapidly, and the products have gotten a lot better.  I decided it was finally time for me to give this tool a second look, and I am fairly impressed by what I found.
Most every major power tool manufacture now has their own versions, and for the most part the name on the box is a good indication of how well the tool is built.  Prices range from about $50.00 – $300.00; I opted for a middle of the road offering, and picked up the Milwaukee M12 Cordless Multi-Tool.
What's in the box: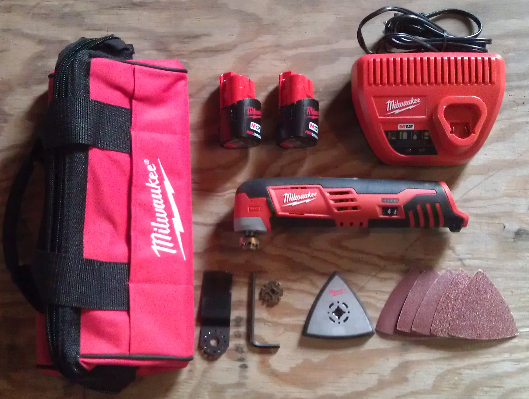 (The bag looks much pinker in this picture, it's actually red).
The package I purchased contained:
2426 M12 Cordless LITHIUM-ION Multi-Tool
Adapter
Wood Cutting Blade
Sanding Pad
(5) Assorted Sanding Sheets
(2) M12 RED LITHIUM Batteries
30-Minute Charger
Contractor Bag
Technical Details:
| | |
| --- | --- |
| Voltage | 12V |
| Variable speed | 12 Settings |
| OPM (oscillations per minute) | 5,000 – 20,000 |
| Charge Time | 30 Min |
| Length | 10-7/8 in. |
| Weight | 2.1 lbs. |
At $99.00 (Home Depot) it was near the lower-middle end of the price range, but that doesn't seem to be an indication of quality.  The tool feels good in your hand; it has a little beef to it and doesn't feel flimsy at all.  The rubber coating provides a good surface for gripping the tool, so there is no chance the tool will slip from your hand while you work.  It has a healthy whir when switched on, and doesn't bog down at all when loading up.  It gets to work cutting or sanding, without any hesitation at all.  The included adapter allows it to work with accessories from most other companies, so there shouldn't be any problems finding bits to extend the tools usefulness.  The biggest selling point for me, however, was the lack of a cord.
It has a speed adjustment on the side, which was slightly stiff at first but loosened up after being used a bit.  The speed adjustment wheel is not placed well, which makes it slightly awkward to adjust while in use.  The On/Off switch is also poorly placed, and is difficult to interact with while holding the tool in a working position.  A locking trigger switch near the bottom of the tool would be much more convenient and easier to use.  Switching from bit to bit is slightly cumbersome, but this seems to be a poor design aspect of this type of tool.  Another design aspect overlooked was a hook or loop, so the tool could be hung from a tool belt.  It has a protrusion just above where the battery connects (underside of the tool), to house a screw.  It's too bad they didn't design some type of metal ring that could connect here allowing the tool to be clipped to a tool belt.  The design of the tool could defiantly use some improvements, but it seems to fall in line with most tools of this type.
I found the battery slightly difficult to load/unload, but once it's in place there is no fear of it accidentally being dislodged.  The battery indicator on the side of the tool is useful, letting you see how much use you have left.  It also provides various indications that the battery is low, the tool is too hot, or that the tool has shutdown due to overload, binding, or stalling.  The tool seems to throttle down when not under load; which I'm guessing is a battery saving mechanism, though I couldn't find any documentation that described this behavior.  It came with 2 batteries and a 30-minute charger (that actually charges that fast), so down time waiting for a charge is limited.  The batteries don't last long, however (15-25 minutes), so expect to make frequent trips to the recharger.
And by now you're thinking, "That's all well and good, but HOW WELL DOES IT WORK!".
I used the tool first for repairing damage in a plaster and lath wall.  If you've ever had to cut lath, you know what a pain it can be.  This handy tool cut the plaster and lath no problem, and did it without damaging any of the surrounding plaster.  Cutting the hole for a new gang box in a drywall patch was a breeze, it cut the hole faster and cleaner than a typical jab saw.  With that job complete, it was time to search the garage for other things to cut and sand.
Once in the garage my eyes immediately set on a scrap piece of pressure treated 2×4, so I clamped it into the vise and got to work.  It took a little bit, but I was able to cut through the 2×4 rather easily.  I was really impressed at the quality of the cut, it was fairly smooth and would require little sanding if this was a finish cut.  This tool is definitely at home around wood, and would be handy for lots of woodworking projects.
The next item up required a trip to the local hardware store, since the package did not include a blade for cutting metal. Once I acquired a blade, Bosch OSC312F 3-1/2 in. x 7/8 in. BIM Flush cut Wood and Metal Blade ($25.00! @ Home Depot),  it was time to cut some steel.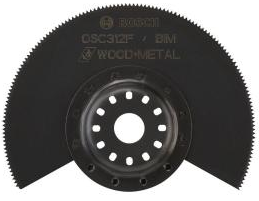 I tried cutting a variety of nails, screws, and bolts; but found that anything thicker than a finish nail took quite a bit of effort to cut.  I decided to try cutting out a hole in an aluminum soffit cover, for a receptacle I plan on installing in the future.  It took a bit of effort, but once I made the original plunge cut the rest of the cut was fairly easy.  Maybe there are better blades available for cutting metal, but with this blade, cutting metal was a chore.
The final challenge was sanding, and as expected it did a good job at it.  As advertised, it fit into tight spots and corners fairly well.  It may not be the best tool for large sanding jobs, but it is definitely useful for those small hard to reach jobs.
All in all, the Milwaukee Multi-Tool performed rather well in my testing.  I couldn't see it replacing any specialty tools: circular/jig/reciprocating saw, angle grinder, orbital/palm/belt sander.  It is quite a handy tool, and would be a good addition to any tool box.  It excelled when working with wood and drywall/plaster, but next time I have to cut metal I won't be reaching for this tool.  Despite a few minor design imperfections, it does have sturdy construction, is versatile, and performs fairly well.  I'd rate the Milwaukee M12 Cordless Multi-Tool 3.5 Captain Constructions out of 5.