Let me just apologize up front because I didn't do this project with blogging in mind, so the photos are somewhat lacking detail of the progress…
Ok apology out of the way.  Now for the meat.
I.  Love.  Glass.  Block.  Windows.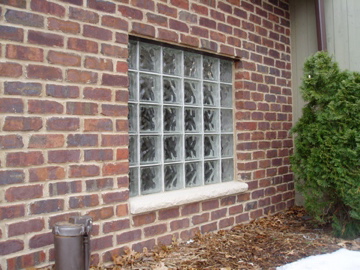 I mean – seriously – aside from stained glass, where can you get such interesting designs?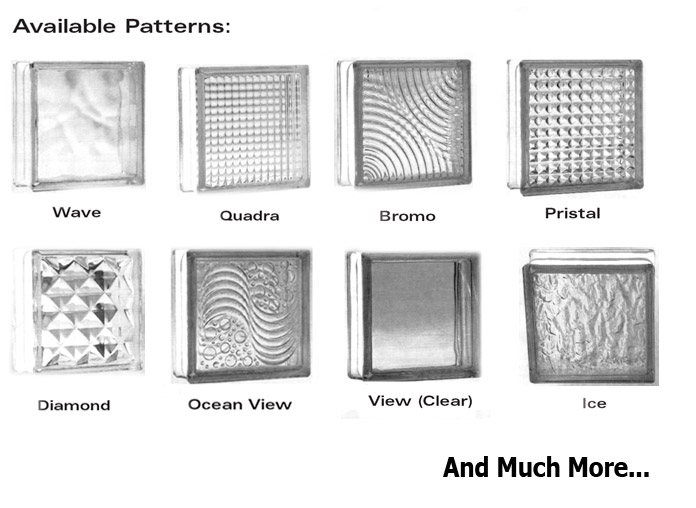 And there are, for the real enthusiasts, plenty of even more ornate, decorative glass block options out there.
I mean – how better to get light AND privacy?  And look at what you can do with it!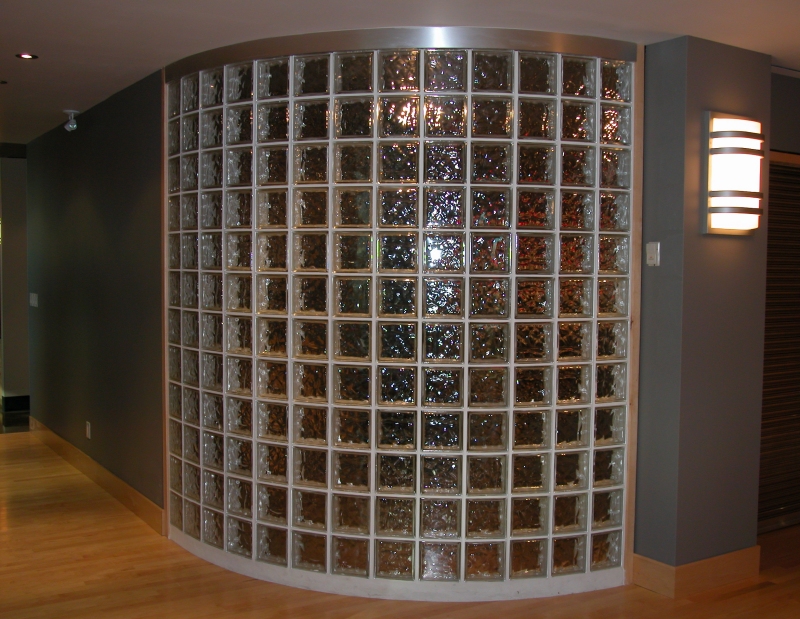 I mean that's just COOL!
I think glass block is under appreciated today.  I base this mainly on anecdotal evidence.  It turns out that in the Baltimore metropolitan region, there are only TWO Home Depots that carry glass block and glass block supplies, and both of those are in lower income neighborhoods.  How sad is that – that glass block is the "cheap option"?  (And seriously at ~$12/sqft JUST for the glass, how that gets to be the "cheap" option is beyond me…)  But anyway…
So you may remember our basement: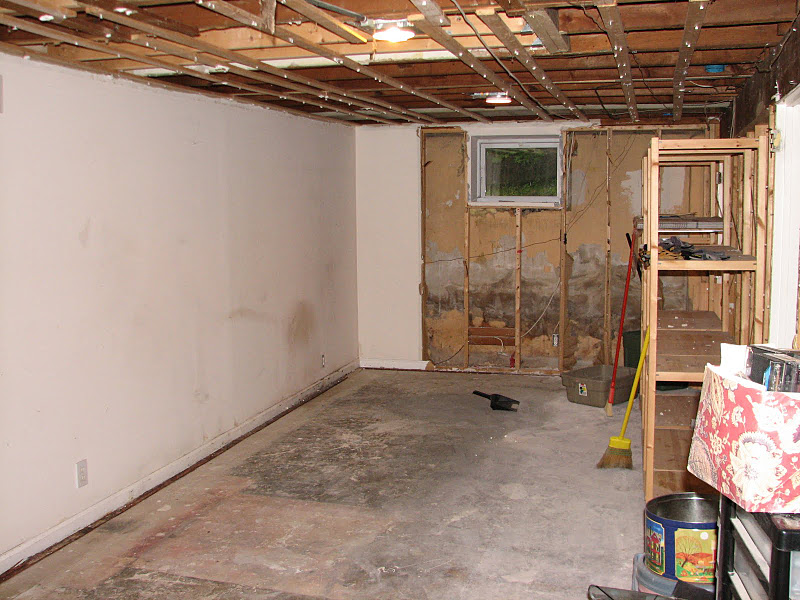 Specifically,  our laundry area: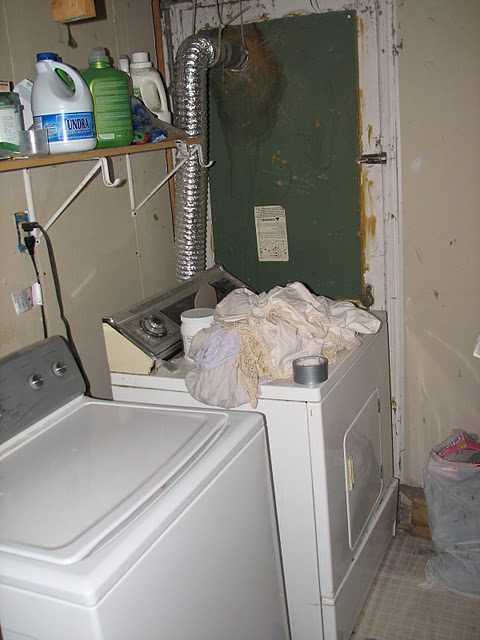 If you haven't seen this before – what you're seeing is, indeed, a dryer that is up against and VENTING THROUGH the exterior basement door.  Yep, the previous home owners could think of nothing better than to block the secondary exit from the basement up with a dryer and to run hot moist air through it…
So we decided that this has to go.  We want to move our laundry facility here: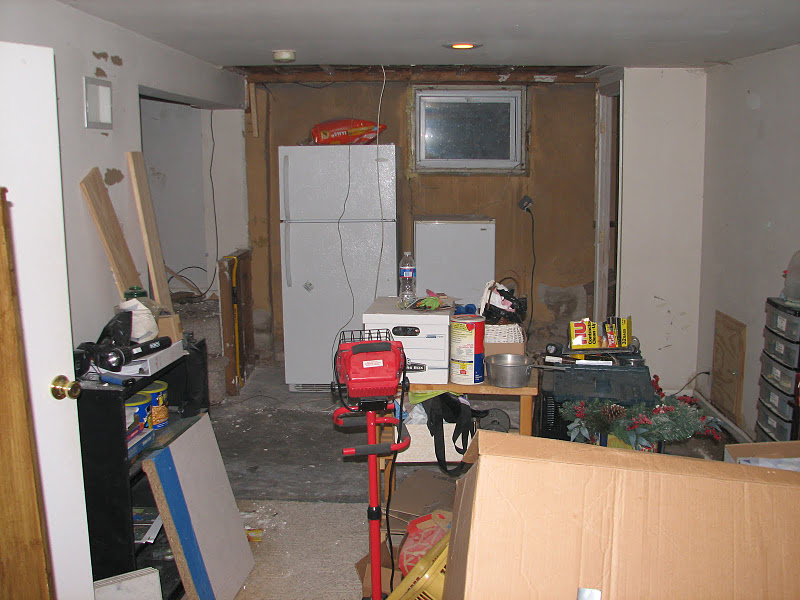 Which actually, now that demo is mostly done, looks more like this: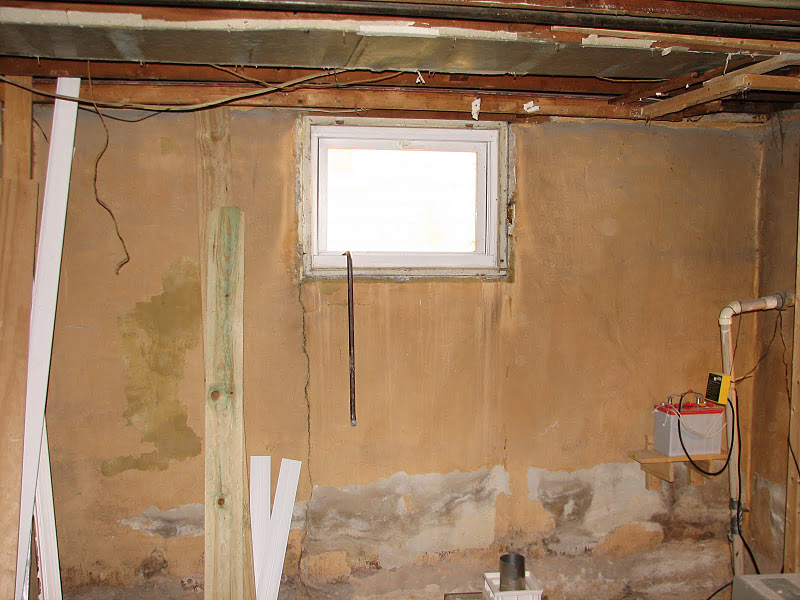 The idea being – come down the steps, turn left, open a closet door (double folding doors of course) and there's the washer and dryer, and while we're at it, reclaim the basic ability to exit the basement directly to the outside world.  You know – in case of, oh, things like a FIRE?  (Idiot previous owners…)
So a few weeks ago, I got to work on one of my favorite kind of projects – a brand new glass block window!
Pittsburgh Corning sells a fantastic glass block system called (rather unimaginatively, I'm afraid) Pro-vantage, which consists of vinyl tracks and spacers, like these.
The tracks are set in a window frame around the perimeter, and the spacers go between each block.
I started by measuring the opening about two dozen times, doing a lot of calculations, checking a lot of wood measurements and finally removed the existing window…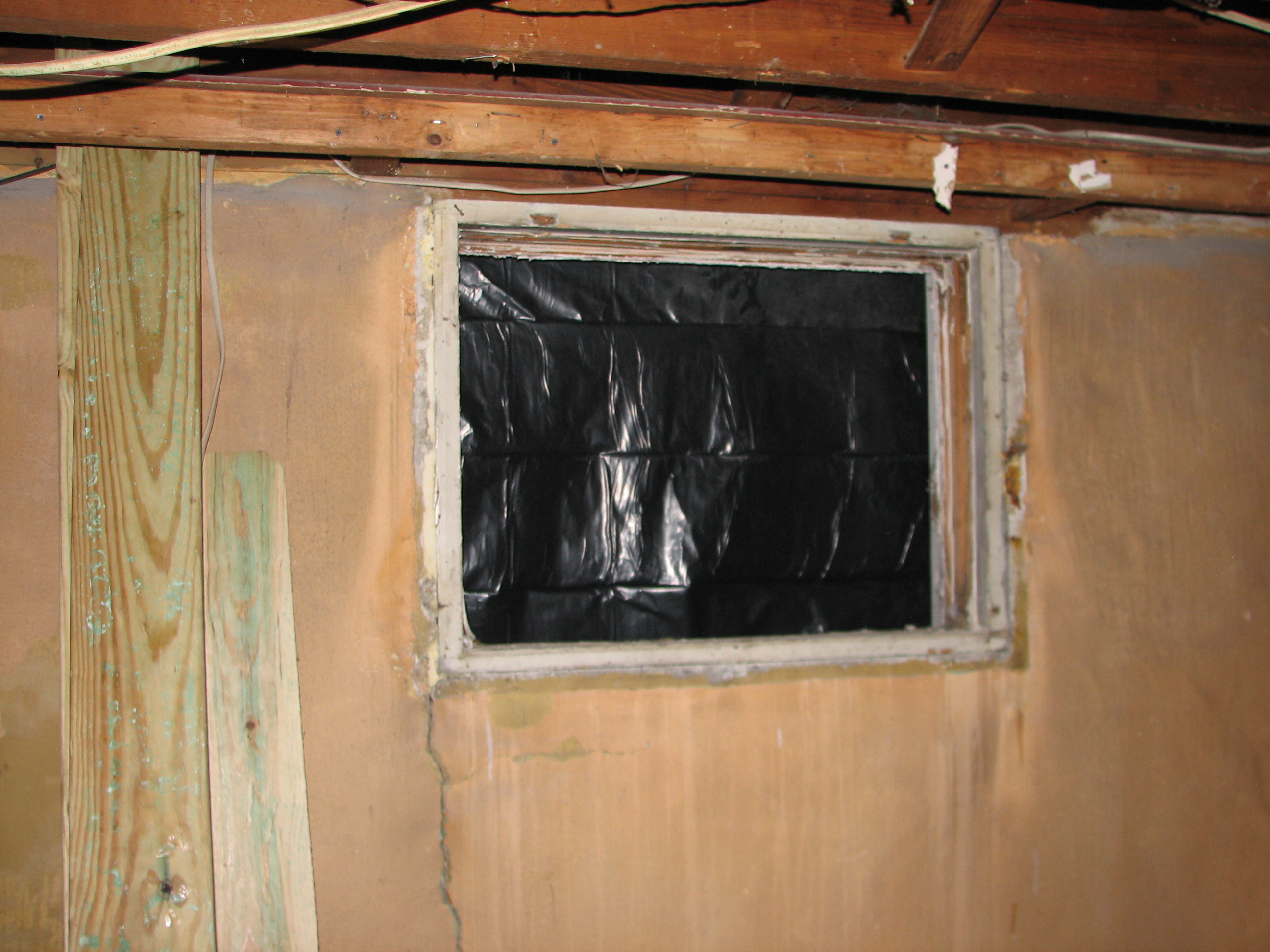 Then I measured it again and again, and I took my outside track and glass block (the icicle pattern) and built the window in a free standing setup on a board on a sawhorse (strapped together to keep it from falling – wish I had pictures of that!) and measured it about a dozen times as well, and ultimately concluded that the frame had to come out.
After a bit more demo, I constructed the new frame, which gave me a chance to use my new dado set.  This was the hard part.  Building the window itself was SUPER easy.
First you lay the base track in the frame (over a double bead of caulk) and secure it with screws.  For windows, I prefer the grey coated screws.  Then you caulk the track again on the inside, and put in your first row of blocks, caulking also between each block.  Caulk on top of that row and another row and you end up with this: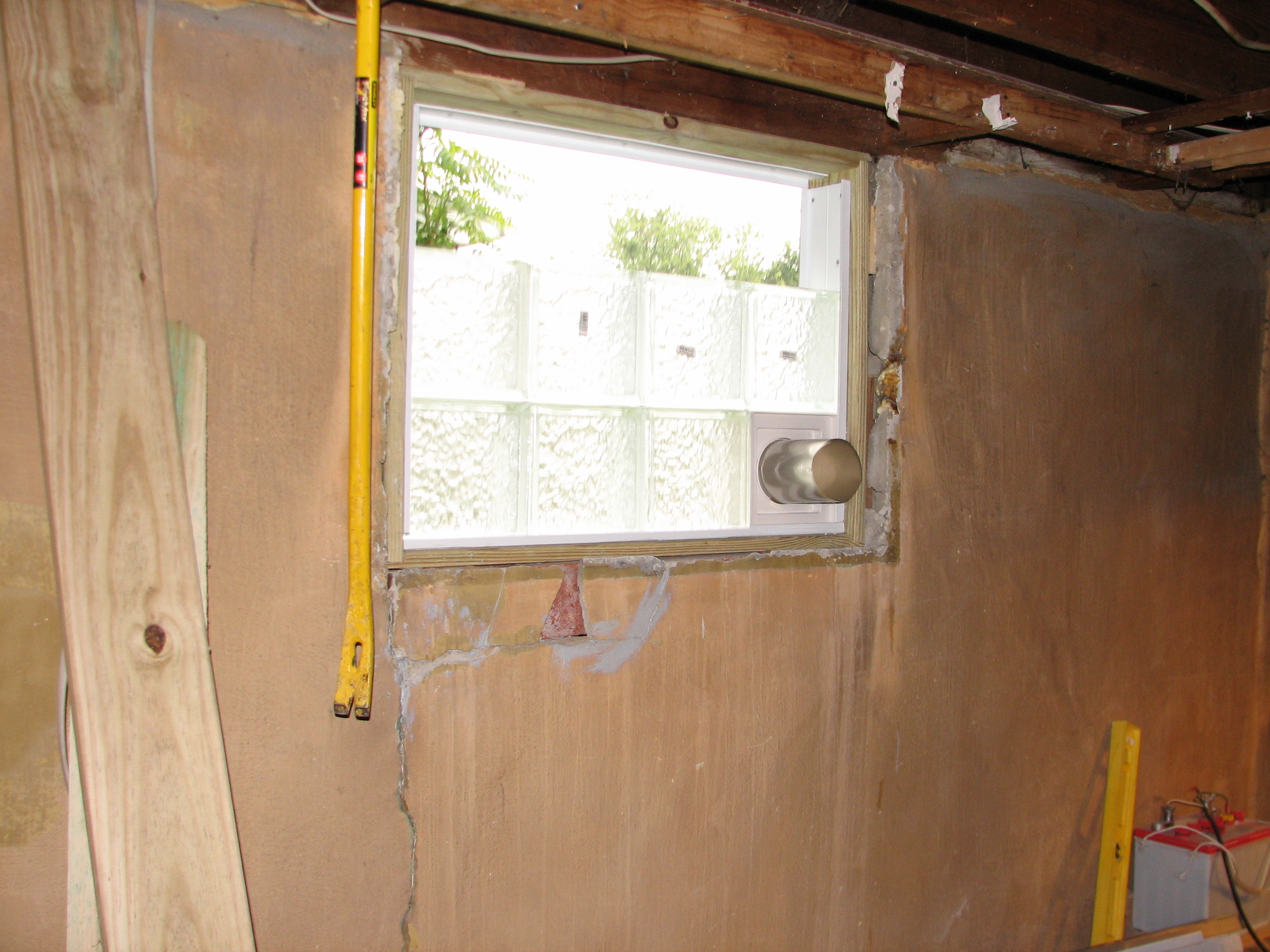 Click the pic for a full sized shot.  You can get a really good look at the new frame, the dado cut, and the general install.
Note how the entire frame is in place except at the top.  That's the secret I didn't know – you cut the top track in half long ways, put your block in, and then seal the second half in after it's all done!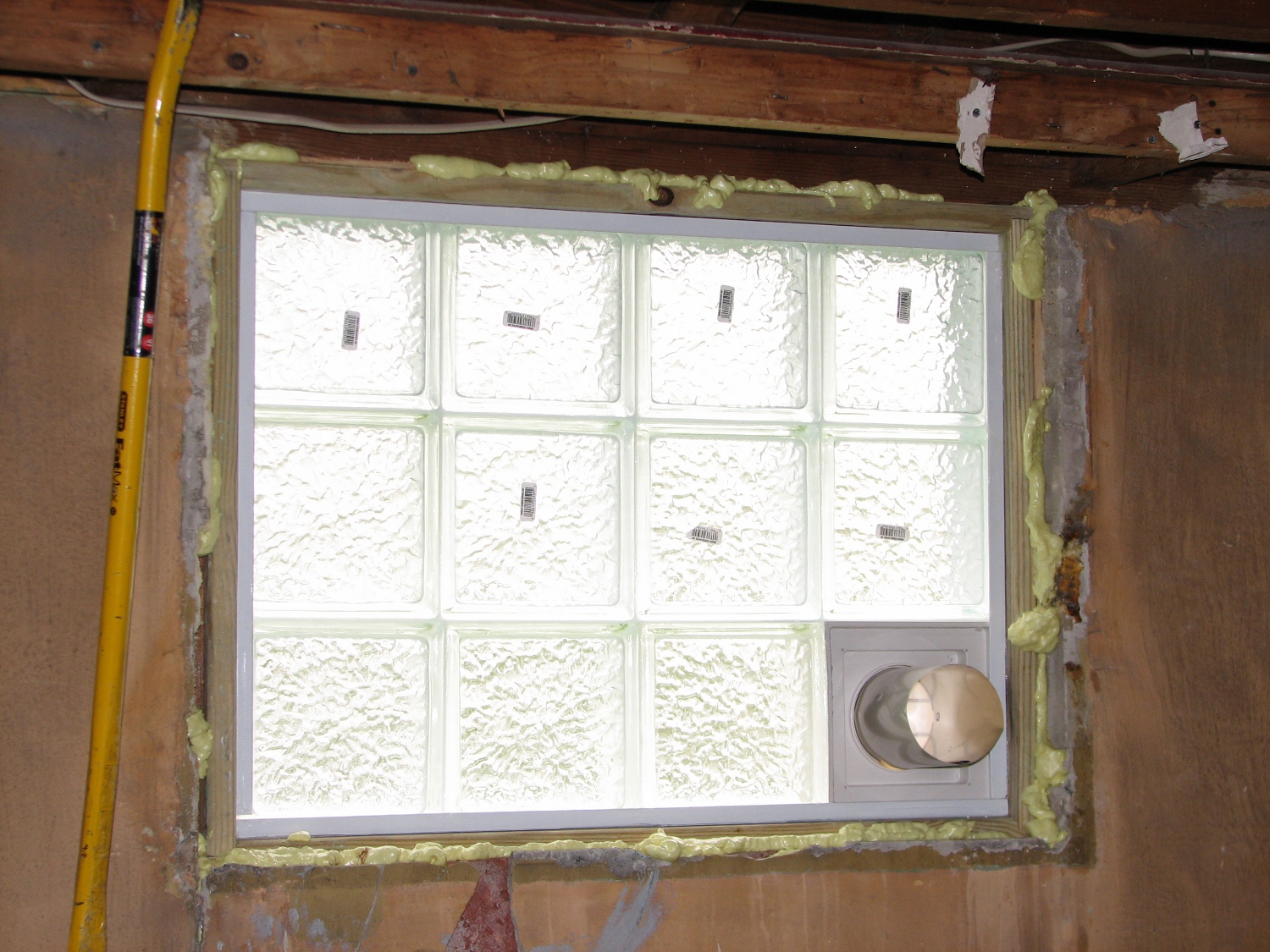 Once in place, you cannot tell that the top row was cut in half.
Right now it looks ugly on the inside – but that's because this is all initial work.  From the outside, I think it looks fantastic!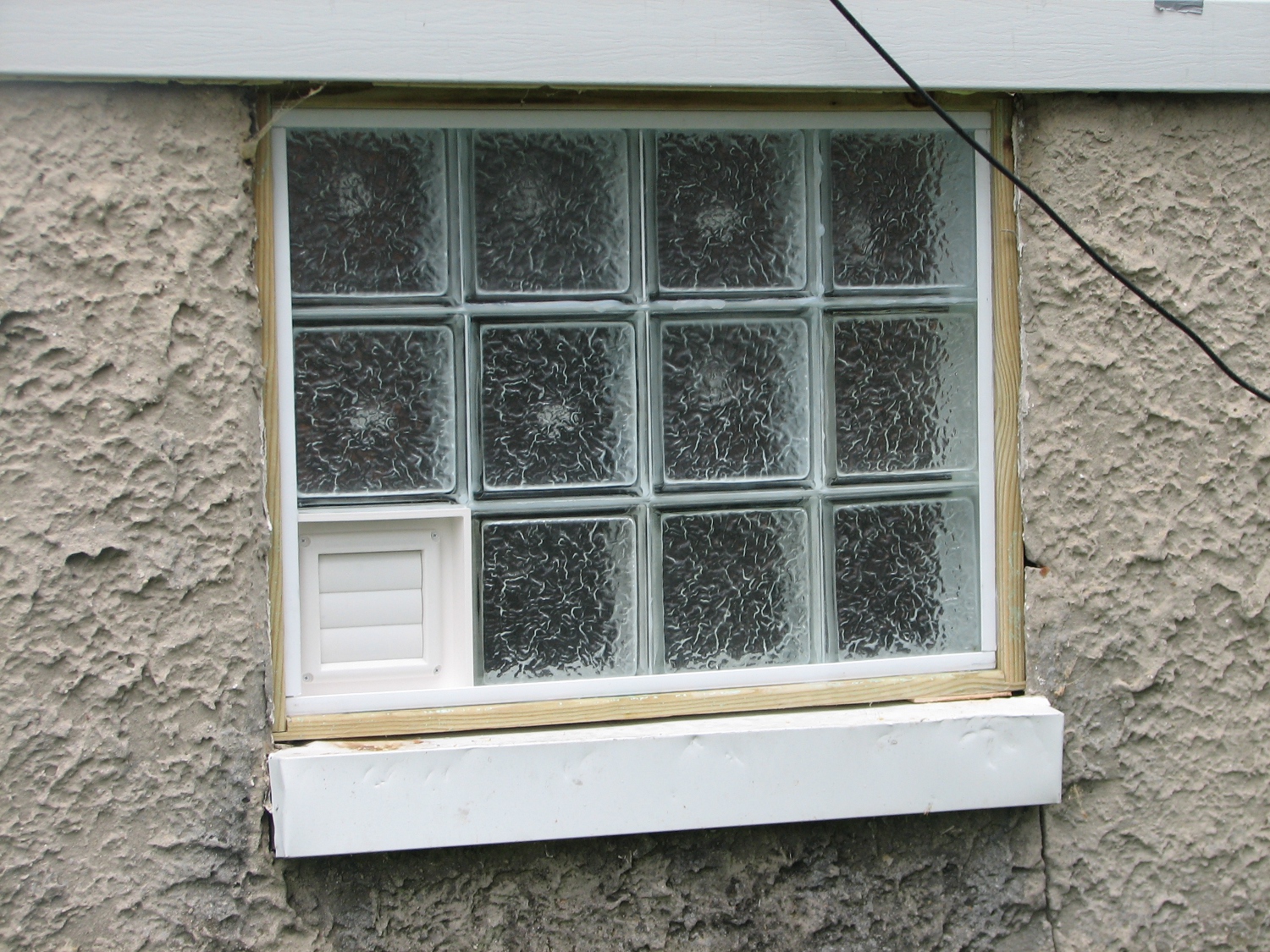 Well, ok, except for my caulking job.  I really should have left that for the missus – she's the better caulker.
Hammer safely!
G