Posts Tagged 'Hardwood'
When my wife & I decided to buy our first house I had never thought about whether I wanted hardwood floors or not. My wife on the other hand, LOVED them. After we had picked out our house, we were doing a walk through to determine what things needed to be fixed by the sellers  (a sampling):
Repair the moldy bathroom
Find and repair the gas leak
Clean the carpet
We walked into the now guest bedroom and I saw that there was no molding in the closet and that the carpet was loose. Instead of just marking it down as something for them to fix, I was curious and pulled back the carpet. To our surprise, we found original hardwood floors! My wife flipped.
After pulling back the closet's carpet completely, we saw that it looked almost as if the floors had been refinished and then someone laid carpet on top of it. What a shame.
Once we found the flooring, the repair list looked more like this:
Repair the moldy bathroom
Find and repair the gas leak
Clean the carpet Whatever you do, do NOT clean the carpet!
But, what the sellers heard was:
Don't worry yourself about the mold in the bathroom, just knock a couple hundred off the price
Gas leak? *sniff* What gas le–…. *passes out*
Ignore our requests and please clean the carpet and leave it wet Pay ZERO attention to this!
Some years ago, after our finished (not by me) basement flooded for the third time, and we decided that the carpet posed too much of a health risk to spend serious time down there until we redid it (a project that's still not finished, FYI), we decided to convert the 3rd bedroom in our house to an office.
This project involved a lot of learning experiences for me, but one of the best was learning the value of the phrase, "old but good".
A little history.  House was built in 1940.  We are the third owners, if I remember correctly – fourth at the most.  At one point, the house was converted into two apartments, and so the 3rd bedroom had a history – at one time, it had been a kitchen.
So that probably explains why the flooring we found under the carpet (the same forest green carpet that filled the house when I bought it) looked like this:
(Stop staring at my sexy legs!)
Well, of course, being the meticulous and conscientious DIYer that I am, and as a big fan of Mike Homes' "Do It Right!" philosophy, I couldn't just cover this floor up again.  So, the work began: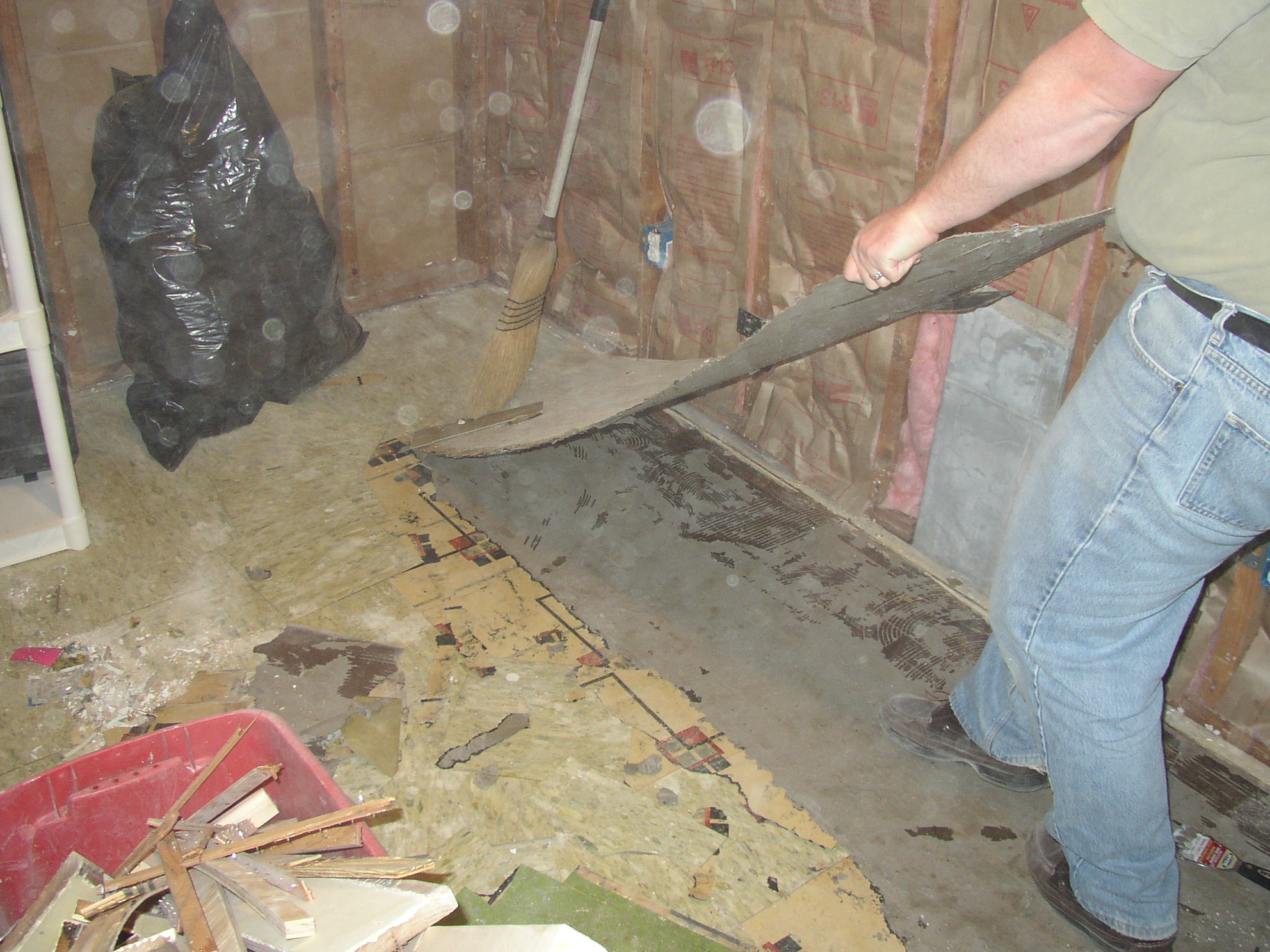 And continued…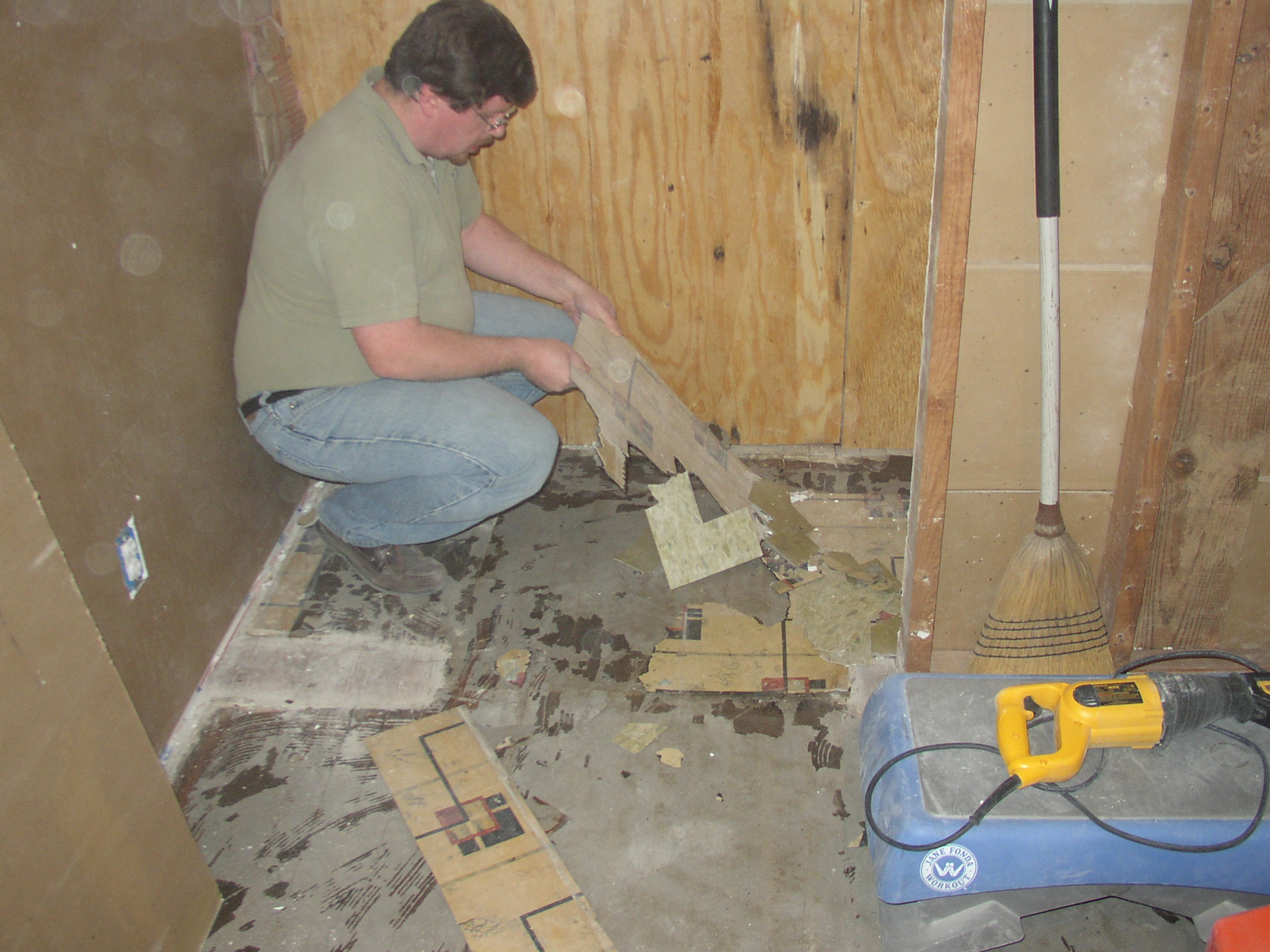 And boy was there a lot of mess – layer upon layer!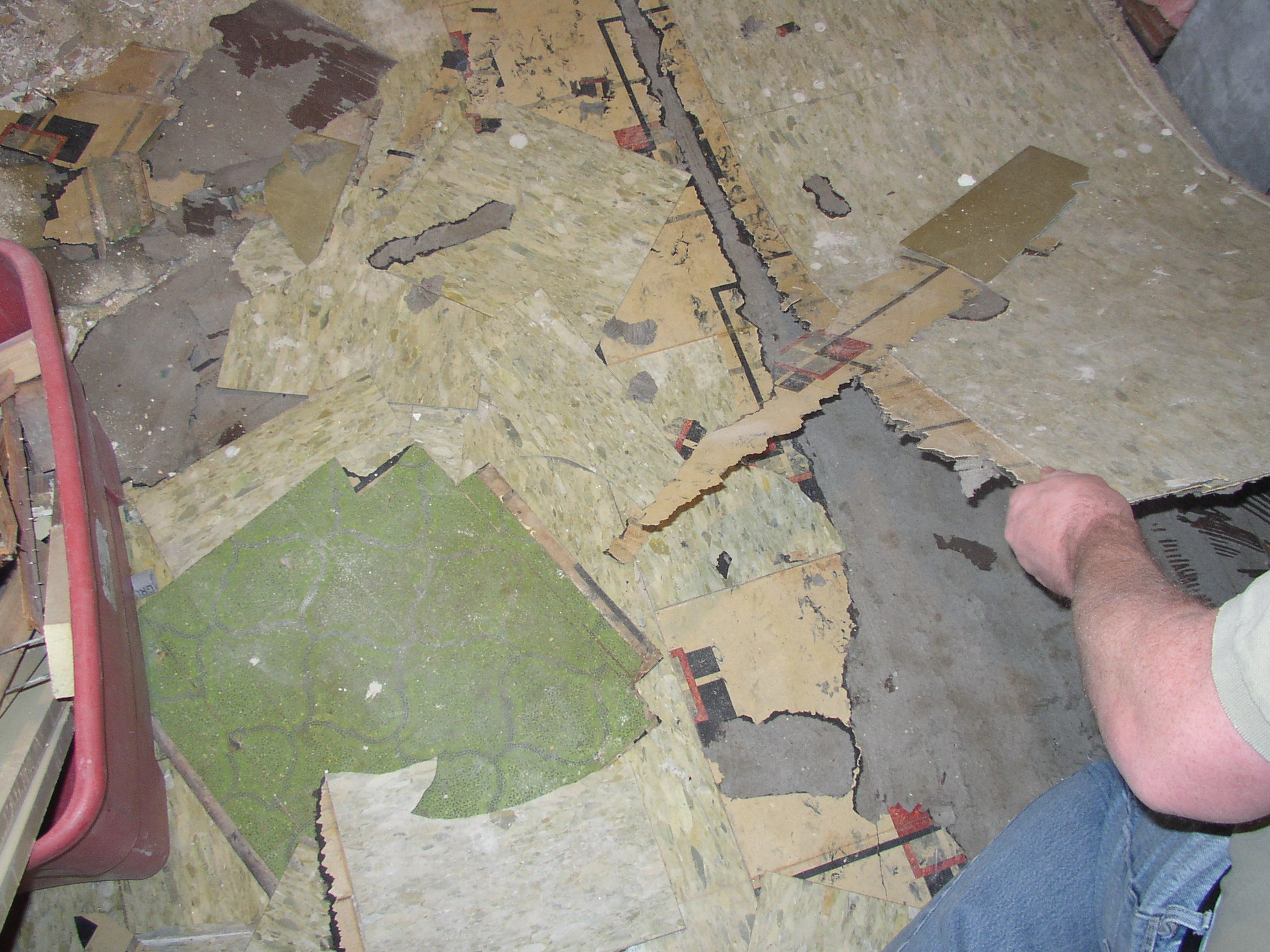 BUT – finally we got to the bottom of the pile, and this is what we found underneath… which wasn't exactly heartening…
(Sorry, we didn't take a pic of the whole floor after we pulled the layers – we were just too tired to think of it)
This was a real mess – the whole floor looked like this – a layer of some kind of rosin paper (I think) and adhesive.  So now it was time for some serious elbow grease…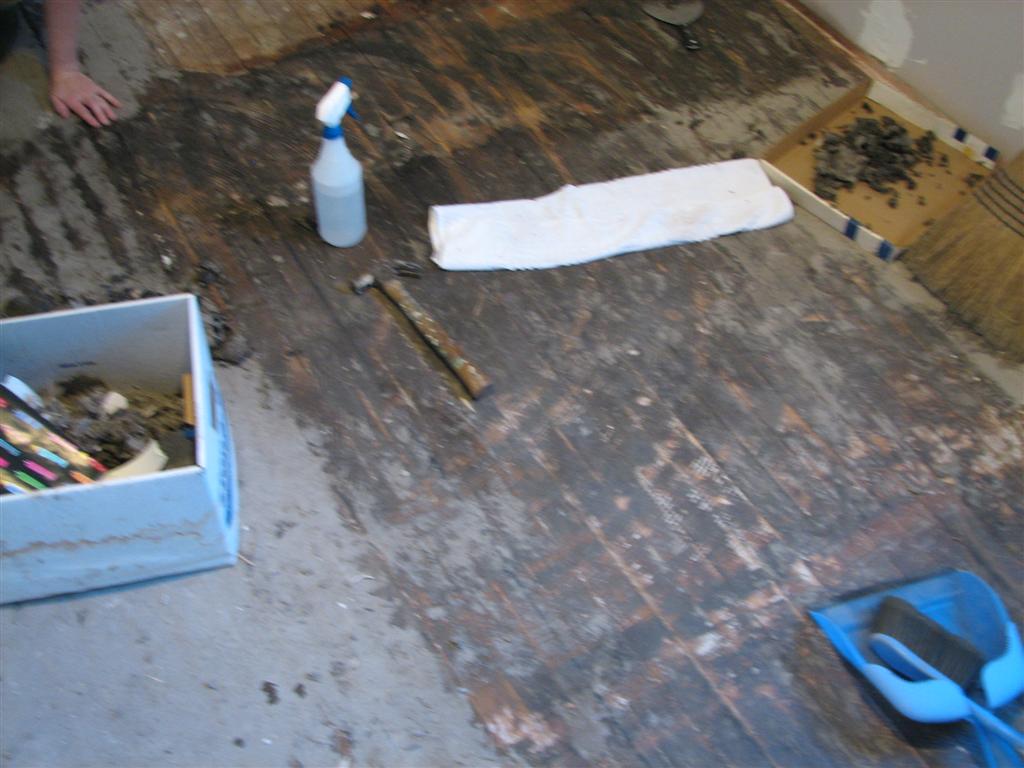 To remove the top layer of gunk, we used very simple tools – 3″ metal scrapers (not putty knives – as I've learned to my chagrin there's a big difference) and spray bottles of water.  We would soak a section of floor with the water, let it set in for a minute, and then apply the good old fashioned "wear your fingers to the bone" technique with the scrapers.  (Often almost literally, since we banged the floor with our hands more than once).
In the end we got the floor looking like this: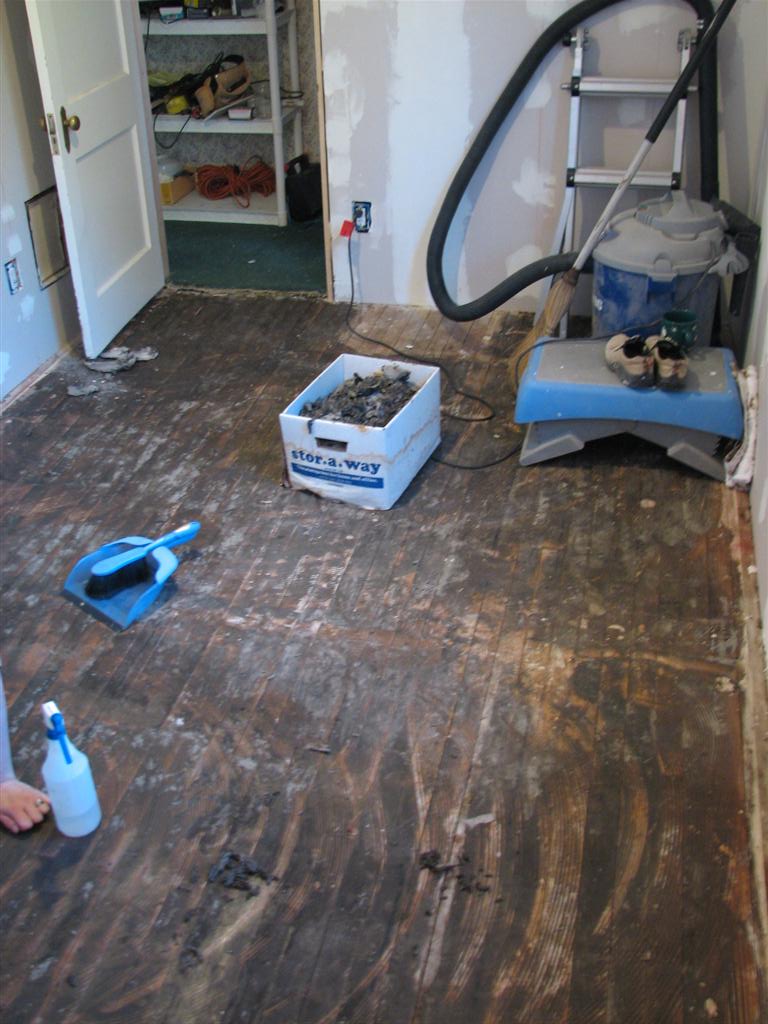 Now we were ready for the next step – the power sander!  Now this is a step that, quite honestly, should not be undertaken by the faint at heart, or the inexperienced, when you really care about how the floor ends up looking.  In our case, the floor was original 1940 hardwood and we figured a little damage was "character" (hey, at 67 years old, see if YOU look this good!).  It's a good thing we didn't mind to much because learning how to handle a drum sander takes a bit of getting used to.
I didn't get a picture of it, and it's right in the corner so it's not a BIG deal – but there is a place in the floor where I let the sander rest too long a couple of times, and so the surface ended up looking a bit like waves in the ocean.  But still, ALL in all, it was a good experience.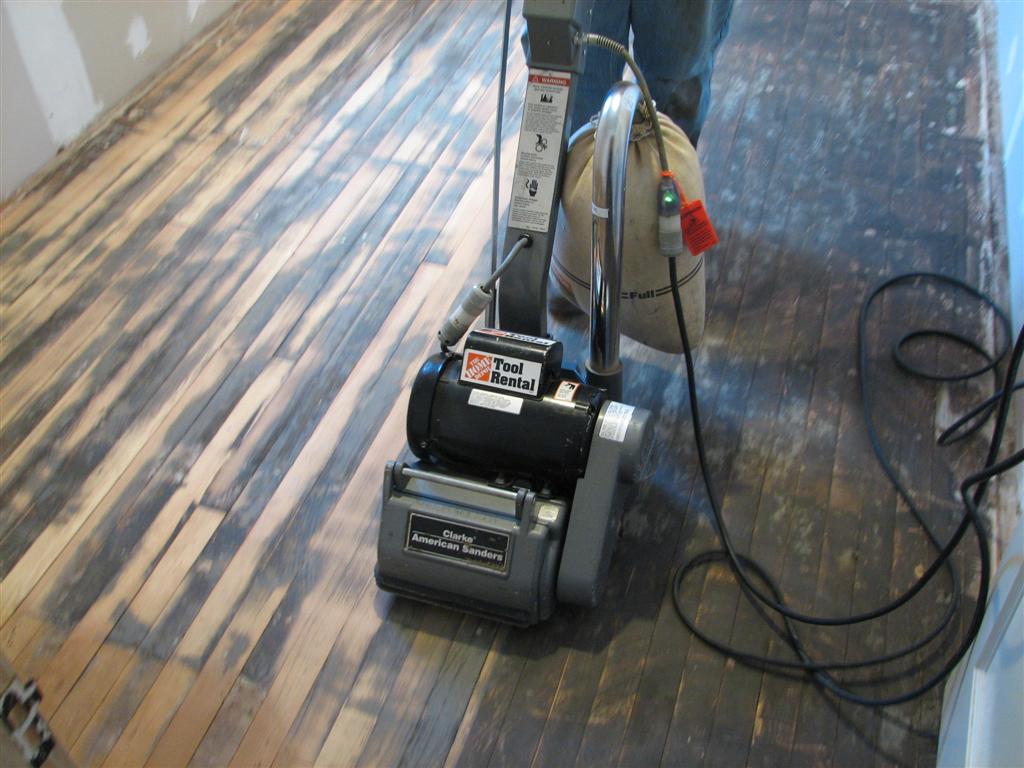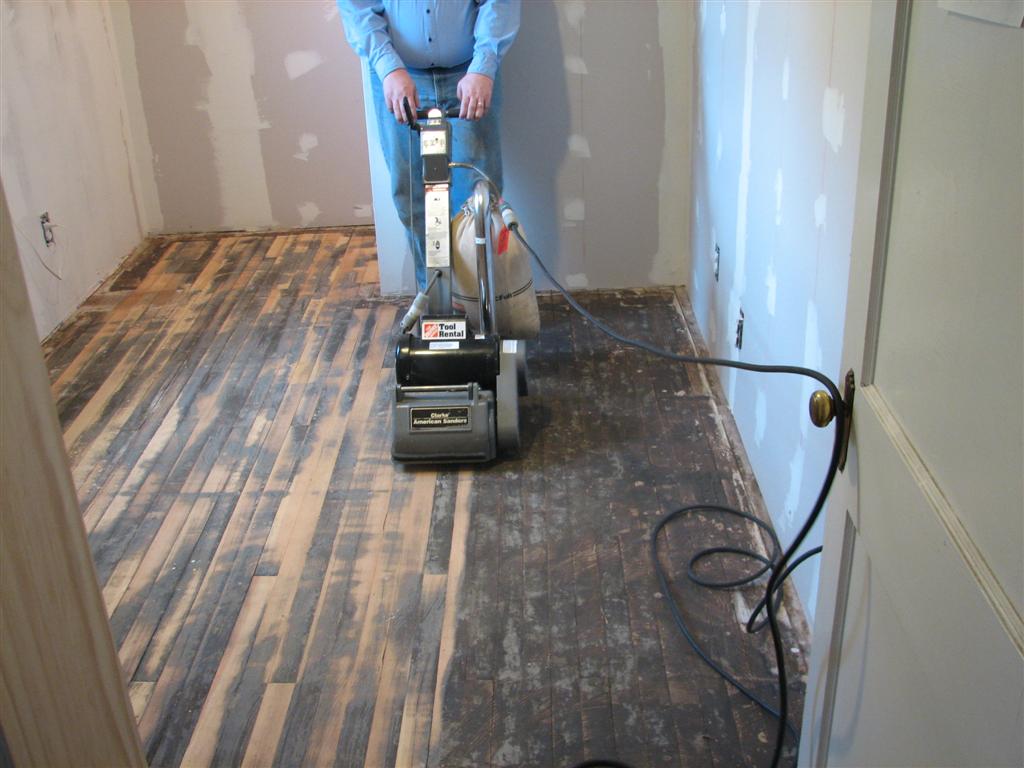 If you want to know, it's the corner in the back right, not yet sanded here, that ended up wavy…
Even with the first pass, we could tell that the finished floor was going to look really good.  With a couple more passes of 80 grit sand paper and cleaning up the edges, here is what we found under all that gunk!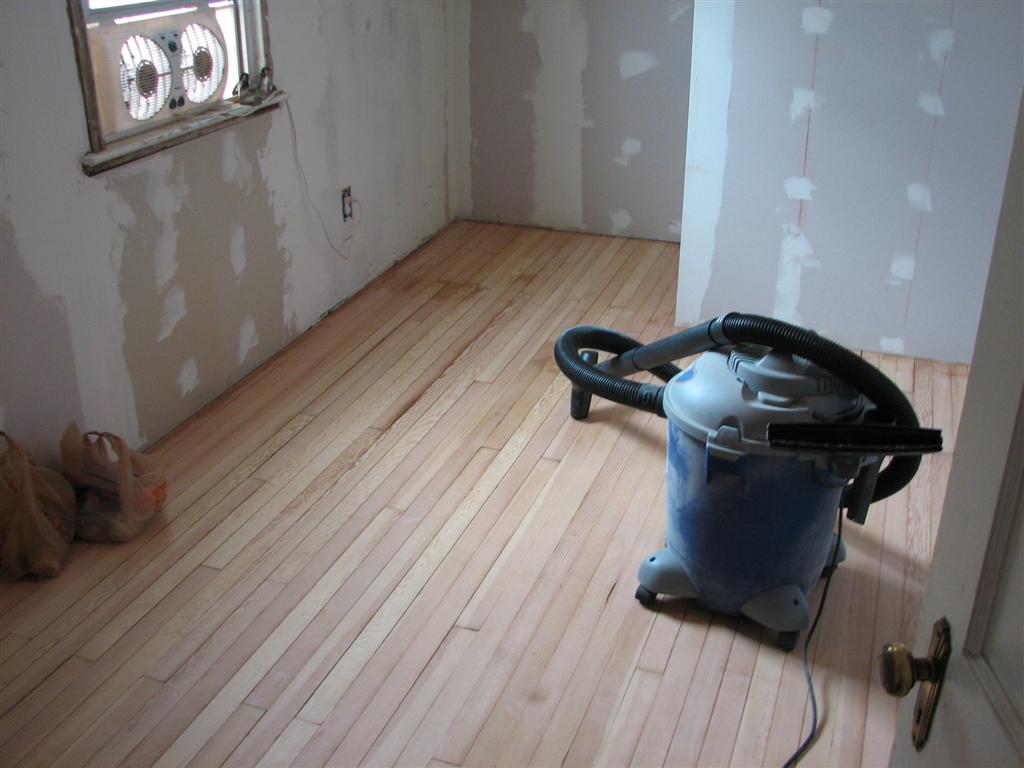 FYI the dark spot just past the window is from where we removed the closet wall and turned it into an alcove.  Behind the back drywall is 3/4 plywood – we could mount a jungle gym against that wall if we wanted.. (instead the alcove is filled with Ikea modular shelving…)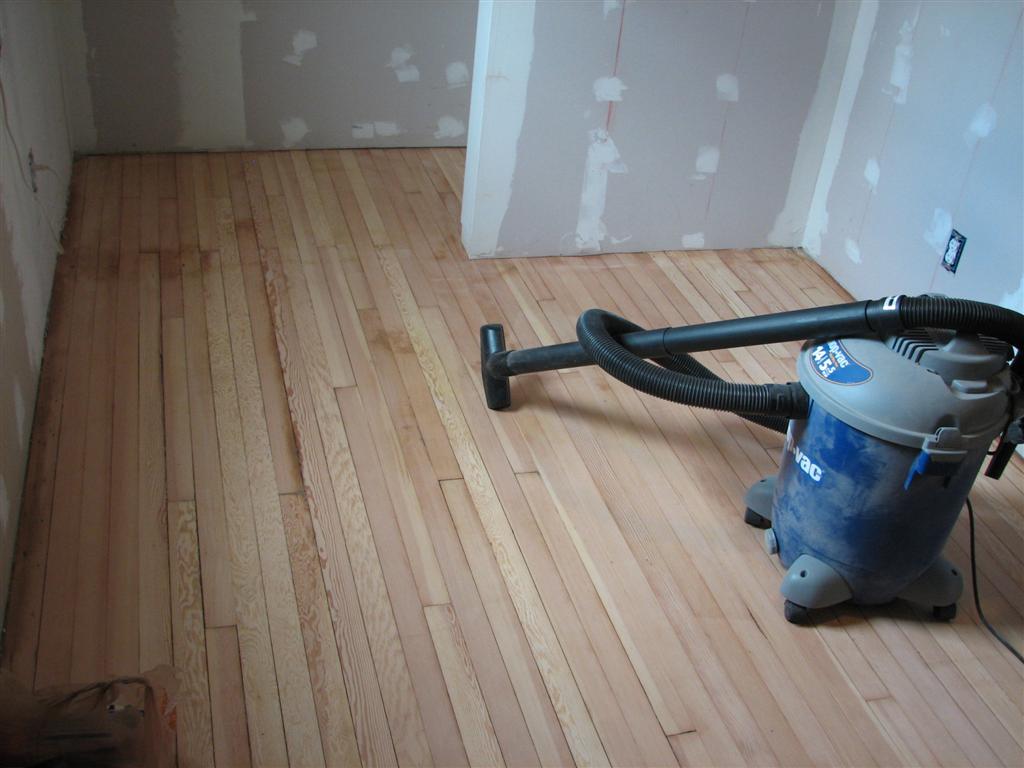 See the ripple?  Back right corner, past the shop-vac…  sigh  And no, the edge sanding wasn't done yet at this point.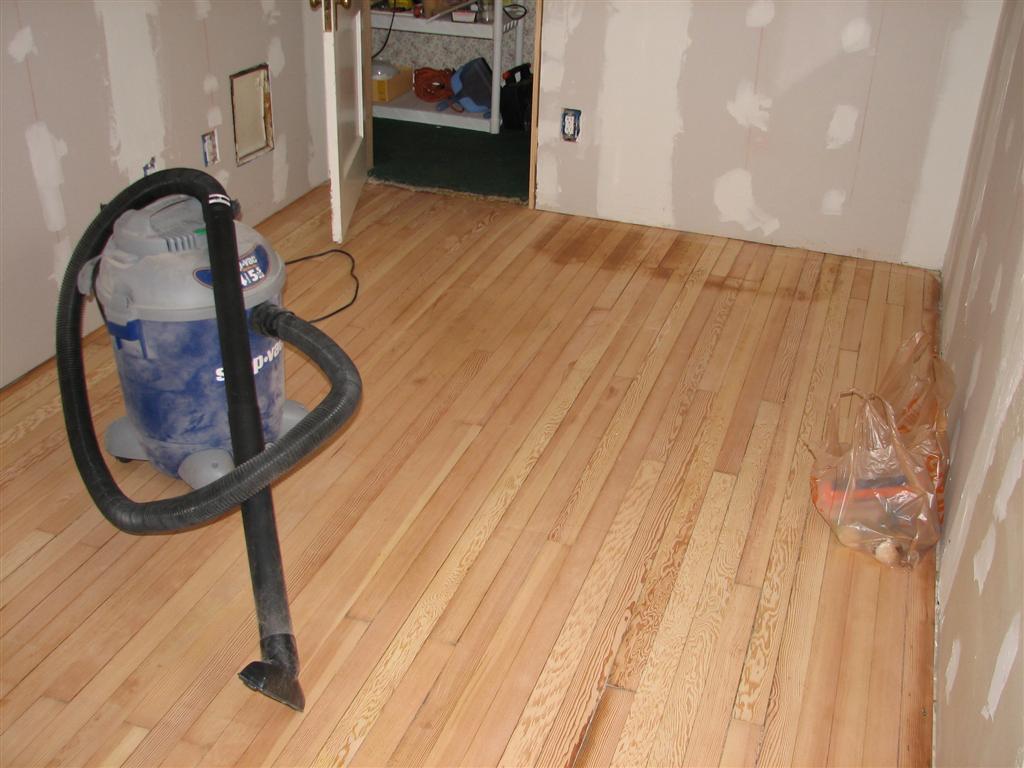 So sure, it's got some water stains from where the old sink must have been (we know this because we found the water pipes and the old (unsealed) drain stack) but from 1940, covered in three layers of flooring and then carpet, and finally revealed and recovered in 2007, this floor looked pretty damn good!
So if you've got an old hardwood floor that's ugly, maybe even a little damaged – don't just rush to cover it up.  With a little elbow grease (and some rented tools from Home Depot) you can end up with an absolutely beautiful floor again.
(Now please don't be mad, but we never did take pictures of the final final product – we used a light natural stain and then applied two coats of polyurethane to finish – right now the office is a total mess so if I took a picture and showed it here, my wife would kill me.  Sorry…)
Hammer safely!
G